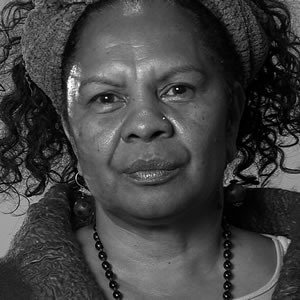 Dr Anne Poelina MPHTM, MEd, MA, PhD & Doctor Health Science scholar.
Anne Poelina is a Nyikina Warrwa Traditional Owner and a guardian of the Mardoowarra, Lower Fitzroy River in the Kimberley region of Western Australia. Anne is the Managing Director of Madjulla Inc., Chair of the Martuwarra Fitzroy River Council and Deputy Chair of the Walalakoo Aboriginal Corporation (Native Title Body Corporate).
Dr Poelina life career in Indigenous, human and environmental advocacy spans four decades achievements include Master Public Health and Tropical Medicine, Master Education, Master Arts (Indigenous Social Policy), Doctor of Philosophy & Doctor of Health Science Scholar.
Peter Cullen Fellow (2011), Laureate Women's World Summit Foundation (Geneva) (2017)
Adjunct Senior Research Fellow the University of Notre Dame (Nulungu Institute of Research), Adjunct Research Fellow Charles Darwin University.
Dr Anne Poelina lived experiences and knowledge of the Indigenous domain is grounded in her childhood growing up in Broome, Derby and the Mardoowarra (Fitzroy River) wilderness.
Throughout her lifetime of research and practice Anne has lived and worked in a wide range of circumstances from remote Indigenous communities to regional centres and universities in capital cities.
Anne has been a leader in policy and procedures in relation to Indigenous education, research and training at senior government, university, vocational training, research consultancy and community levels.
Through her post-graduate studies in biophysical and social sciences and education, Anne incorporates a trans-disciplined approach, including art through cultural knowledge and practice. Anne's work has focused on a brokerage model that builds relationships between academic, professional, government, business, industry and community partners for the common good. This work is complimentary with; human, Indigenous First Law, and the rights of nature as the cultural solutions for planetary health and wellbeing.
Through an earth-centred regional governance citizen in the regions can provides the hope necessary to re-imagine the future now!